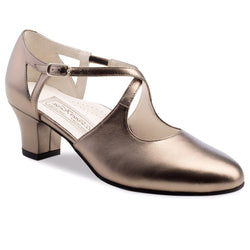 Werner Kern
Werner Kern Gala- Antique 4.5
 An elegant and extremely comfortable Werner Kern dance shoe. The exterior strap is adjustable with a snap buckle. The leather-covered interior strap has elastic. Shown in a comfortable 4.5 cm (1.77") broad heel, in Antique leather.
Suggested fit is to start with 3 sizes down from your U.S. women's size.
Nickel-free Snap Buckle 

Comfort Insole

Suede leather sole

Made in Italy 
If your size is not currently showing in our stock, you can still order here. We get frequent deliveries, and will let you know as soon as your shoes are ready for pickup or shipping.

Sizing suggestions are guidelines, not a guarantee. You may need or prefer a different fit.