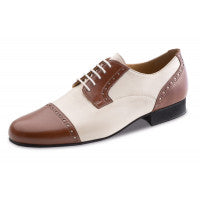 Werner Kern
Werner Kern 28051- Brown-Cream- OVERSTOCK
A fantastically comfortable dance shoe by Werner Kern. Classic styling, in brown and cream with braided wing cap. The shoe's comfortable five-hole lacing offers an optimum fit and the sophisticated design provides an exceptional degree of comfort.

Made in Italy. UK sizing. Suggested fit is 1.5 sizes down from your US men's size.
If your size is not currently showing in our stock, you can still order here. We get frequent deliveries, and will let you know as soon as your shoes are ready for pickup or shipping.
OVERSTOCK