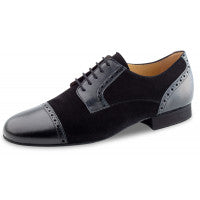 Werner Kern
Werner Kern 28051
Classic styling for men who want to be well dressed. This Derby style impresses with the combination of supple black leather and nubuck. The rounder form makes it very comfortable for dancers.

Made in Italy. UK sizing. Suggested fit is 1-1.5 sizes down from your US men's size.
If your size is not currently showing in our stock, you can still order here. We get frequent deliveries, and will let you know as soon as your shoes are ready for pickup or shipping.
Sizing suggestions are guidelines, not a guarantee. You may need or prefer a different fit.