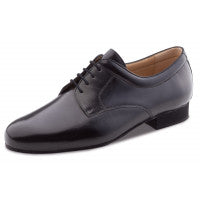 Werner Kern
Werner Kern 28050
An absolutely comfortable Werner Kern classic men's dance shoe with adjustable 4-hole lacing. The entire heel area is surrounded by a super soft, leather-covered cushion and provides a secure fit in combination with the elegant lacing. The shoe is lined with soft glove-quality calfskin. The slightly wider width and blunted toe, make this a customer favorite.
Made in Italy. UK sizing. Suggested fit is 1.5 sizes down from your US men's size.

If your size is not currently showing in our stock, you can still order here. We get frequent deliveries, and will let you know as soon as your shoes are ready for pickup or shipping.
Sizing suggestions are guidelines, not a guarantee. You may need or prefer a different fit.