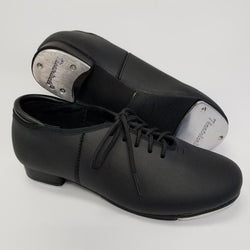 Theatricals
Theatricals Child Jazz-Tap shoe
The Theatricals T9500c is a great economy shoe for young children with quickly growing feet! This jazz-tap style is a PU leather lace up shoe with taps that are screwed on and a sound board underneath. It also features a non-skid rubber patch for safety and a cushioned sock lining for comfort.
Suggested fit for children is same as street shoe size.
If your size is not currently showing in our stock, you can still order here. We get frequent deliveries and will let you know as soon as your shoes are ready for pickup or shipping.
Size suggestions are guidelines, not guarantees. You may need or prefer a different size.