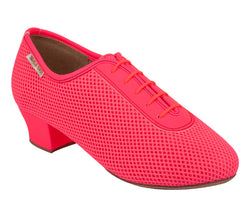 Supadance
Supadance 1326 Pink Mesh
A popular and comfortable mesh teaching and practice shoe in a fun neon color! Pink mesh with Split sole for maximum flexibility. Regular fitting with round toe shape. Heel is 1 ½" on this style. Suede Sole. UK sizing 2-8. Customers usually go down 2 sizes from their U.S. dress shoe size.
If your size is not currently showing in our stock, you can still order here. We get frequent deliveries, and will let you know as soon as your shoes are ready for pickup or shipping.

Sizing suggestions are guidelines, not a guarantee. You may need or prefer a different fit.
This style is made to order and will take about 6 weeks to be made if not in our stock.