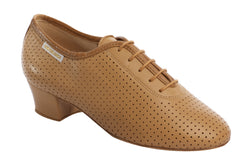 Supadance
Supadance 1026 Flesh Leather- Full Sole
The classic teaching and practice shoes in Flesh perforated leather, with a Full Sole for extra support and stability. Made from very high quality soft leather with a padded and cushioned insole allowing for many hours of comfortable use. Regular fitting with round toe shape. Heel is 1 ½" on this Style. Full suede sole.
Suggested fit is 2 sizes down from US ladies' shoes size.
If your size is not currently showing in our stock, you can still order here. We get frequent deliveries, and will let you know as soon as your shoes are ready for pickup or shipping.

Sizing suggestions are guidelines, not a guarantee. You may need or prefer a different fit.