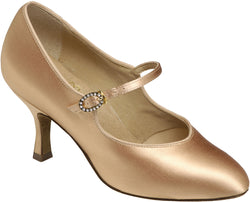 Supadance
Supadance 1012 Flesh Satin- 2" Flare
Classic round toe court shoes, in Flesh Satin, with a horizontal strap, oval diamante buckle and 2" Flare heel. The heel design provides exceptional support and balance, making them ideal for ballroom dances and other styles that require smooth and controlled movement. Standard suede sole. Made in England. UK sizing. Suggested fit is 2 sizes down from your US ladies shoe size.
If your size is not currently showing in our stock, you can still order here.  We get frequent deliveries and will let you know as soon as your shoes are ready for pickup or shipping.

Sizing suggestions are guidelines, not a guarantee. You may need or prefer a different fit.