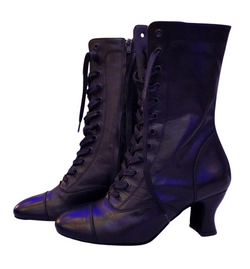 Rumpf
Rumpf Betty Boots- Black
We love the look of these Betty dance boots by Rumpf. Plus, the quality leather and comfortable heel make them a winner! Lace up style with inside zipper. Soft suede dance sole. European sizing. Whole sizes. If you're normally a 1/2 size or a wider width, go up to the next whole size.
If your size is not currently showing in our stock, please contact us to place your order so it can be included on our next shipment.
Sizing suggestions are guidelines, not a guarantee. You may need or prefer a different fit.