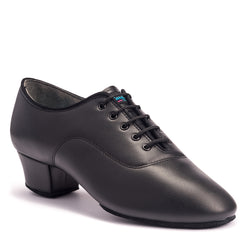 International
International Rumba- Black Calf
'Rumba' is a popular split-sole Men's Latin shoe which brings together flexibility, style and comfort. This lightweight shoe, made of soft leather, has a classic look, while the inside features arch padding which helps with foot alignment and comfort. There is also padding under the heel to cushion each step. Shown with a 1.5" heel.

If your size is not currently showing in our stock, you can still order here. We get frequent deliveries, and will let you know as soon as your shoes are ready for pickup or shipping.
Size suggestions are a guideline, not a guarantee. You may need or prefer a different size.

Ultra flexible and lightweight with a split-sole design
Arch support for greater comfort and to help with foot alignment
Cushioning underneath the heel to absorb shock

Gel padding from the tip of the toe to the back of the heel for cushioning and comfort
Foam lining for a comfortable and glove-like fitting
Made in England