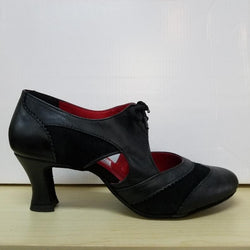 Ray Rose
Ray Rose Lorna Lee- Black
A popular and comfortable practice shoe in black suede and leather with a 2" heel. This is a full sole shoe that offers good arch support.
If your size is not currently showing in our stock, you can still order here. We get frequent deliveries, and will let you know as soon as your shoes are ready for pickup or shipping.

Sizing suggestions are guidelines, not a guarantee. You may need or prefer a different fit.
Designed and worn by World renown teacher and choreographer Lorna Lee.
Fully rounded, spacious, toe shape.
Gel foam padding under sock.
Elasticated band under laces, for extra security and comfort.
Sports grade heel support material.
Anti-slide suede heel tips.