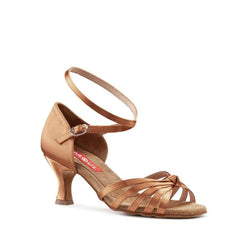 Paoul
Paoul 170A_60R Tan Satin
The Paoul 170A has a wider fit than the best selling 170. It offers more volume in the front, padding of the sole and a squared toe. The strap can be wrapped around the ankle or passed under the sole of the shoe before buckling. Shown with 6 cm flared heel (2.25"). A top seller! Made in Italy. European sizing.
If your size is not currently showing in our stock, you can still order here. We get frequent deliveries, and will let you know as soon as your shoes are ready for pickup or shipping.

Sizing suggestions are guidelines, not a guarantee. You may need or prefer a different fit.