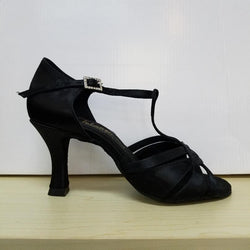 International
International Mia T-Bar- Black 2.5"
'Mia T-Bar' is a very popular style, not just because it looks stunning on the foot, but because the design of the vamp is closed enough to do a great job in holding in the little toe. Stylishly designed, super flexible, and made with gel cushioned insoles for the best in comfort. Shown in Black Satin in the 2.5" IDS heel.

If your size is not currently showing in our stock, you can still order here. We get frequent deliveries, and will let you know as soon as your shoes are ready for pickup or shipping.

Sizing suggestions are guidelines, not a guarantee. You may need or prefer a different fit.