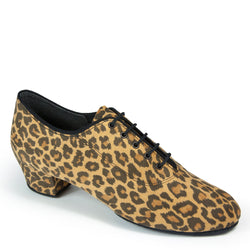 International
International Heather Split- Leopard 1.5"
The 'Heather Split-Sole' is widely used across all levels of dancing around the world. It offers comfort, stability and flexibility. The Leopard version is super-soft, ultra comfortable and perfect for long hours spent teaching or practicing. Shown on the 1.5" Heather heel. U.K. sizing. Suggested fit is 2 sizes down from your U.S. women's size.
If your size is not currently showing in our stock, you can still order here. We get frequent deliveries, and will let you know as soon as your shoes are ready for pickup or shipping.
Size suggestions are a guideline, not a guarantee. You may need or prefer a different size.
Ultra flexible with a split-sole design
Gel padding layered on the insole plus an arch support unit for enhanced support and comfort
Heel design brings sole material over the back of the heel, offering a smoother drag and greater protection.
Low heel for a broader array of dancing and greater balance
Lightweight
Made in England