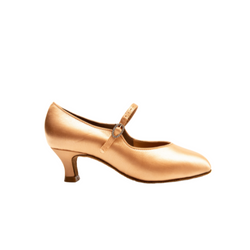 Dance Club
Dance Club 7904
The Dance Club 7904 has a generous medium width and comes in Flesh Satin with hook style buckles on the ankle straps. Shown with 2" Flare heels.
If your size is not showing as currently in our stock, you can still order here. We receive frequent deliveries and will let you know as soon as your shoes are ready for pickup or delivery.
Sizing suggestions are guidelines, not a guarantee. You may need or prefer a different fit.