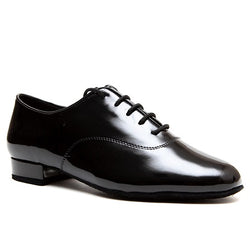 Dance Club
Dance Club 7500 Black Patent- Adult
The 7500 is a great option for someone looking for a more economical entry level ballroom shoe. It has a standard men's 1" heel, full sole for support, and a generous medium width. Black Patent leather.
If your size is not currently showing in our stock, you can still order here. We get frequent deliveries, and will let you know as soon as your shoes are ready for pickup or shipping.

Sizing suggestions are guidelines, not a guarantee. You may need or prefer a different fit.