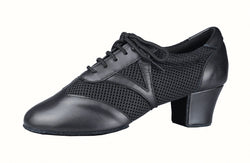 Dance America
Dance America- Savannah
This split sole Ladies practice shoe in ultra-breathable mesh provides unbelievable ventilation, keeping the foot cool & comfortable.  The mesh instep offers a perfect fit for a variety of widths, as the fabric molds to the shape of the foot. Amazing flexibility for full foot articulation made from the highest quality Calf Leather for exceptional durability. Comfort Fit width, with a 1.5" Cuban heel. Available in American sizes 4-10.
This style runs a bit short. Most of our customers have been going up 1/2 size from their street shoe size.
If your size is not currently showing in our stock, you can still order here. We get frequent deliveries, and will let you know as soon as your shoes are ready for pickup or shipping.

Sizing suggestions are guidelines, not a guarantee. You may need or prefer a different fit.