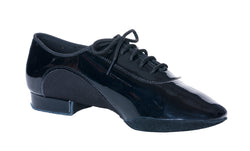 Dance America
Dance America- Chicago
 This Patent-Lycra combo is the best of both worlds! Patent upper with the instep of a foot hugging lycra offers full articulation and more support than a traditional split sole.
The sole material curves over the inside edge of the ball of the foot and at the back of the heel, so this shoe will not stick to the floor! Black Patent Leather with 1" heel. Comfort fit width. Available in American sizes 7-12.
If your size is not currently showing in our stock, you can still order here. We get frequent deliveries, and will let you know as soon as your shoes are ready for pickup or shipping.