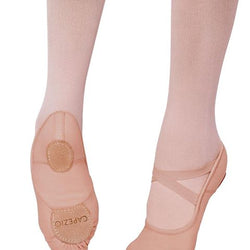 Capezio
Capezio Hanami canvas ballet shoe- Child pink
Capezio's best-selling canvas ballet shoe! This slip-on ballet shoe features high-quality canvas material with stretch construction and a barely-there feel. The "Hanami" design eliminates bulk in the arch, provides ultimate protection for the metatarsal, and creates the flattest platform to pivot on. Its patented technology also offers a seamless diamond gusset in the arch of the shoe, no center stitched line to interfere with pointing and flexing, and its no-drawstring design avoids any adjustment fuss during studio time.

Suggested Sizing: Children go 1-2 sizes up from their normal street shoe size. (Most of our customers have been going 1 1/2 sizes up.)
Sizing suggestions are guidelines, not a guarantee. You may need or prefer a different fit.