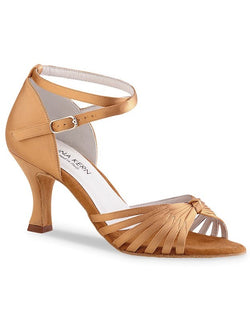 Anna Kern
Anna Kern 526_60 Bronze Satin
Seven straps with a knotted front will help keep the little toes inside, while the ankle strap running through a tab will add stability to the heel. 6 cm (2.36") heel and easy snap buckle.
U.K. sizing. Most of our customers go down 3 sizes from their U.S. size.

If your size is not currently showing in our stock, you can still order here. We get frequent deliveries, and will let you know as soon as your shoes are ready for pickup or shipping.

Sizing suggestions are guidelines, not a guarantee. You may need or prefer a different fit.