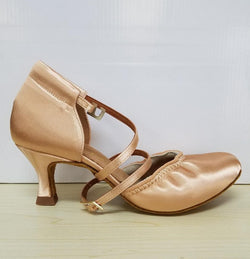 International
International American Flex- Peach Satin 2"
"American Flex" is a super lightweight and flexible shoe that gives greater freedom to the foot in the Smooth dances. The shoe is made with an elasticated vamp which is designed to hug and hold the foot in, and its sponge based lining allows for an enhanced level of comfort. The positioning of the strap through the heel allows for the shoe to fit the narrower or wider heel. Shown in Peach (previously called Flesh) satin with 2" IDS heel. U.K. sizing. Suggested fit is 2.5 sizes down from your U.S. women's size.

If your size is not currently showing in our stock, you can still order here. We get frequent deliveries, and will let you know as soon as your shoes are ready for pickup or shipping.
Size suggestions are a guideline, not a guarantee. You may need or prefer a different size.
Super flexible & lightweight

 

design, enabling

 

greater freedom of the foot

 

across the Smooth dances
Elasticated vamp design

 

with a newly developed sponge lining for

 

enhanced comfort

 

and hold for the foot
Gel padding for enhanced support and comfort

B

ack design made to cover

 

wider and narrower

 

heel shapes
Developed through intense

 

research & testing

 

with US vendors and Smooth dancers
Made in England