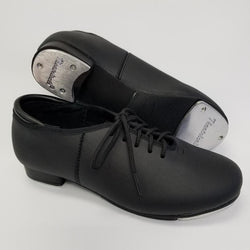 Theatricals
Theatricals Adult Jazz-Tap Shoe
The Theatricals T9500 is a great economy shoe for beginner tap dancers or children with quickly growing feet. This jazz-tap style is a PU leather lace up shoe with taps that are screwed on and a sound board underneath. It also features a non-skid rubber patch for safety and a cushioned sock lining for comfort.
Suggested fit for women's sizing is the same to 1/2 size larger than street shoe size.        For boys/men, go 2-2 1/2 sizes larger than street shoe size.
Size suggestions are guidelines, not guarantees. You may need or prefer a different fit.