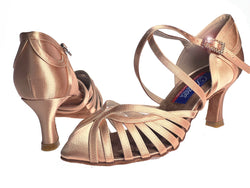 Dance America
Dance America- Hollywood (Limited Edition)
This new Dance America shoe is a limited edition. Once gone, there are no back-orders.
Smooth style dance shoe in champagne satin with a 2.25" flared heel and hook style buckle. Comfort fit. US sizing.
If your size is not currently showing in our stock, you can still order here. We get frequent deliveries, and will let you know as soon as your shoes are ready for pickup or shipping.

Sizing suggestions are guidelines, not a guarantee. You may need or prefer a different fit.