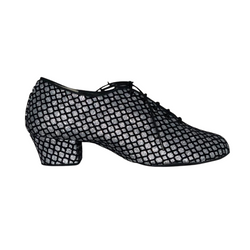 Paoul
Paoul Limited Edition 808 Black-Silver
The Paoul 808 is a split sole shoe that is very lightweight and extremely flexible. It's used by amateur and professional dancers in the black kid leather for competition and training. It is shown here in a Limited Edition version of black velour with silver glitter for something eye-catching and interesting for practice or social dances. The glitter is soft and flexible, not scratchy! Buffalo suede sole. Made in Italy. European sizing.
This shoe has a comfortable width across the front of the foot, and a slightly shorter length. Most customers choose 1/2-1 size up from their normal European sizing.
Sizing suggestions are guidelines, not guarantees. You may need or prefer a different fit.